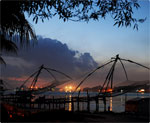 Fort Kochi
The chinese fishing nets (Cheenavala) are distinctly unique to Cochin. It is believed that traders from the court of the Chinese ruler Kublai Khan introduced these nets here. Oddly, these nets are found only in Kochi, outside China! Many fishermen earn their livelihood by fishing using these massive nets. A whole stretch of the coast along Fort Kochi and Vypeen are dotted with these nets.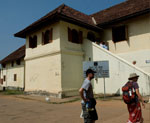 Dutch Palace
The Dutch Palace was originally built by the Portuguese. Later, in 17th century, the Dutch modified it and presented it to the Raja of Kochi. Coronation of many Rajas of Kochi were held here. The palace has a fine collection of mural paintings depicting scenes from the Hindu epics Mahabharatha and Ramayana. The palace is located in Mattancherry.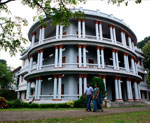 Hill Palace, Thripunithura
Built in the 19th century by the Raja of Kochi, this palace served as the seat of the Raja of the Kochi province. The palace has been converted into a museum displaying a fine collection of articles showing the wealth and splendour of the Rajas of Kochi, including the thone and the crown. The musuem also houses a large collection of archaeological findings.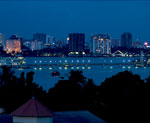 Marine Drive
A stroll along the long tree-lined coastal pathway that lines the backwater is well worth the time spent, especially late afternoon or dusk. The bustling backwaters, dotted with fishing boats, speedboats, ships, tankers and passenger boats, can be observed from this walkway that lines the coast.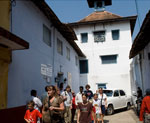 Jewish Synagogue
The synagogue, built in 1568, is magnificently decorated by Chinese tiles and Belgian chandeliers. Giant scrolls of the Old Testament can be found here. It is located near the Dutch Palace in Mattancherry.
St.Francis Church, Fort Kochi
It is the oldest church built by Europeans in India. On his 3rd visit to Kerala, Vasco da Gama, the Portuguese trader who reached India from Europe by sea, fell ill and died in Kochi. He was buried in the St. Francis Church. Later his remains were taken back to Portugal. In spite of that, his burial spot inside the church has been clearly marked out.
Santa Crus Bacilica, Fort Kochi
The original church, situated in Fort Kochi, was built by the Portuguese in 1505 and named as a cathedral in 1558. The British colonists destroyed the cathedral in 1795.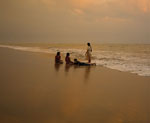 Cherai Beach
This lovely beach ideal for swimming is located on the north end of Vypeen island, one of the many small islands just off the mainland. The beach is lined by gorgeous coconut groves and paddy fields. Vypeen can be reached by land or by boat.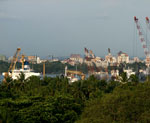 Willingdon Island
This man-made island was created in 1933 by sand dredged while deepening the backwaters for the Cochin Port, under the direction of Sir Robert Bristow. A while back the Airport, Sea port and the railway terminus (Cochin Harbour Terminus) were situated on this island.